Here are a listing of some good Cutey Honey-related links. If you would like to link to my website, feel free to scroll down to the bottom of the page to find out how! Tell others about this website! If you may have a site, or know of a really good one which would fall in one of these catagories, please E-mail me the site name and URL, and it will possibly be added onto this section!







You can link this website by either downloading one of the banners below and linking it onto your website, or linking with a simple text link.



Text Link Code:


Link Banners: Please Download and Upload onto your own server.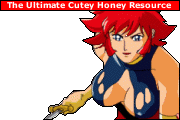 Home